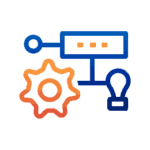 Summary
Our strong Business Development team is looking for an experienced Sales Director. It's an opportunity to conquer new markets by leveraging PLVision's strong service brand and a clear, in-demand specialization in Computer Networking. We build complete software products or full product features. Our key customers are networking industry leaders from Fortune100 and Fortune500 as well as innovative, disruptive startups located in North America, Europe, and Israel.
This role is focused on keeping PLVision's revenue engine up and running while strategically managing each stakeholder and account. You will work in close collaboration with Business Development, Marketing, Engagement, CTO, and the Architecture Office. We expect the ideal candidate to have excellent negotiation skills, fluent English, as well an engineer's mindset. Knowledge of the networking domain would be a huge plus.
A stable business with 100% Ukrainian capital, PLVision has offices in Ukraine and Poland. The company is investing its net income in 2022 for the needs of Ukraine's army.
Dedicated recruiter:
Taras Leskiv
Recruitment Lead
Responsibilities
Secure a steady stream of revenue for PLVision

Present our company with a comprehensive understanding of PLVision's offerings and value proposition

Build and nurture relationships with clients

Negotiate with prospective customers and successfully close deals

Proactively pursue new business and sales opportunities

Explore customer needs and identify how our offerings and solutions meet them

Solve problems for current and prospective customers by developing innovative and tailored sales offers

Collaborate internally with Marketing, Engagement, CTO, and the Architecture Office, to engage clients more effectively

Achieve company objectives through effective planning, setting sales goals, analysing performance data, and projecting future performance

Serve as a brand ambassador and reflect the company's values at all times
Requirements
5+ years of experience in B2B technology sales for the U.S., Canada, Israel, or the E.U. markets

In-depth knowledge of and experience with the sales process, relationship building, and closing deals

Experience in designing and implementing a successful sales strategy

Track record of successfully managing the sales cycle from planning to closure

Extremely strong verbal and written communication skills (Advanced level of English)

Excellent interpersonal, organizational, and problem-solving skills

Strong analytical skills, ability to identify trends and sales patterns

Strong leadership skills

Ability to learn fast

Ability to travel at least 20% of the working time
Would be a plus
An engineer's mindset (experience in technology roles or tech education)

Knowledge of Computer Networking
About PLVision
We are a software product development company, specializing in Computer Networking, Embedded Systems, and the Internet of Things Connectivity. PLVision is headquartered in Krakow, Poland, with a Ukrainian headquarters in Lviv and other offices in Odesa, Kyiv, and Kharkiv (currently relocated). Founded in 2007, we help networking industry leaders and ambitious startups in the U.S., Israel, and EU countries to launch innovative products.

PLVision has taken an active stand in supporting an independent and prosperous Ukraine. We are investing the company's net income in 2022 to provide for the needs of our army and for our country's recovery, as well as implementing many volunteer initiatives.
Want to develop innovative products? Let's talk!