About SONiC-DASH
Disaggregated APIs for SONiC Hosts (DASH) is a new open-source project by the SONiC community which leverages modern DPU technologies. It consists of a set of APIs and object models which cover network services for the cloud. With DASH, any application an enterprise runs can operate with greatly improved performance. This new technology follows the SDN approach to implementing the data plane, allowing for the acceleration of the flow processing.
As open software, SONiC offers significant flexibility, as it can be customized for various uses. It achieves interoperability across various programmable hardware by standardizing the APIs through SAI (Switch Abstraction Interface) and control plane through SONiC. DASH use cases range from basic DPU (aka NIC on a host), a Smart Switch, to high-performance network appliances.
Due to the benefits it provides, the expectation is that DASH will have the same success and wide adoption as SONiC for switches, becoming a major open NOS for programmable technologies like DPU.
SONiC-Based Custom Product Development
We will shorten your journey to a new product or a network infrastructure based on open source.
Leveraging DASH for your product
Hardware vendors need to implement the DASH interface for their products and close gaps in the functionality to enable specific use cases. DASH-based devices are further integrated into SONiC-based datacenter infrastructure, which means a SONiC control plane is intended to work with DASH API.
For advanced DPUs, the product launch cycle is getting shorter and shorter. On top of that, everything SONiC-related needs to get to market faster, and the time pressure is incredible. The complexity of porting SONiC to a non-traditional platform like a DPU depends on hardware capabilities and available software packages, and still requires the involvement of a qualified expert.
How we can help: DASH-based services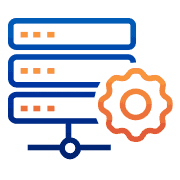 OEM/ODM vendors
SONiC Platform integration for DPU
Customization of DASH interface for your use cases (protocols, telemetry, monitoring, etc.)
DPU vendors
Implementation of DASH library: SAI API implementation
Prototyping/PoC, demos
Support in deployments
Discover DASH's key use cases, with a closer look at VNET-to-VNET, a fundamental scenario that helps verify a platform's readiness for SONiC-DASH implementation and reflects its general idea as an innovative approach for using DPU/SmartNIC for the cloud.
Why PLVision as your SONiC-DASH development partner?
DASH is yet another SAI, and we have a long history of success delivering SAI projects for numerous vendors.
The SONiC control plane is designed for DPU to work with DASH API, and PLVision has a wealth of experience with SONiC.
We offer a strong, system-level understanding of data center networking, how it works, and its common pitfalls due to extensive experience collaborating with datacenter equipment vendors. This helps us effectively develop the requirements for DASH-based products.
SAI Challenger, developed by PLVision and contributed to the Open Compute Project (OCP), represents a unique solution that can be used for the testing of DASH API.
Download Our SONiC Case Studies
Open Source NOS (SONiC) Integration for a Hardware Product
Building a SONiC-Based Switch Product
SONiC Network OS Testing for an Ethernet Switching Portfolio
Get in touch to discuss your DASH needs.