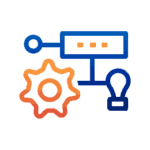 Summary
The customer is one of the major companies in smart hardware development for Oil and Gas industry. The customer has several Legacy projects that require migration and update, and a new project that will provide new user products to the market.
New project is Cloud solution for IoT devices data processing and management:
Receive data from end devices;
Store and pre-process data
Display information in a user-readable form
Add additional Cloud-based services to improve user experience and simplify for End Users operations with devices and data
Dedicated recruiter:
Taras Leskiv
Recruitment Lead
Responsibilities
Participation in solution architecture development

Searching for the best technical tools to implement the solution

Tasks estimation, reporting on task progress and status

Code development

Code review
Node.js (backend) experience
Experience with design/development of backend server-side applications and the use of existing frameworks such as fastify, nest.js, sails.js, etc

Experience in integrating with database engines such as MongoDB / SQLServer
React.js (frontend) experience
Experience with design/development client-side applications using React.js

Experience with React.JS GUI Frameworks such as Material UI, Semantic UI, etc.

Experience with Global State Containers such as Redux or even newer technologies using react hooks
Database Design/Development Experience
Experience with one of MongoDB//CouchDB/CosmosDB

Experience with MS SQL Server / SQL Syntax
Deployment/Docker experience
Experience with Docker: setting up containers hosting the Node.js code.

Experience with process managers for Node.js such as PM2, forever, etc.
Would be a plus
Understanding Microsoft Azure or any cloud system

Knowledge of JavaScript Angular (1.5) for legacy code support (future projects will use React.js)

Understanding PLC

Understanding OPC UA

Some experience with Java/Tomcat or ASP.NET Core / C# for legacy code support (future projects will use Node.JS)
Want to develop innovative products? Let's talk!