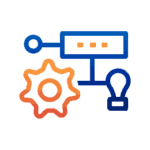 Summary
We are a software R&D firm, specializing in Computer Networking, Embedded Systems, and the Internet of Things Connectivity, operating on the global market since 2007.
Our client is a leader in the network security virtualization based in North America, with a focus on enterprise high performance networks (10G / 100G / Multi-100G). The client's product is a virtual infrastructure manager that controls the security virtualization platform, from the computing infrastructure and load balancing up to virtual machines, and helps easily create virtual firewalls for the networking equipment.
Dedicated recruiter:
Taras Leskiv
Recruitment Lead
Requirements
Skilled using of Cloudify and Terraform to automate VM creation

Able to advise on architectural trade-offs in the selection of orchestration tools and hypervisors

Knowledgeable of hypervisor technology and how to tune for performance

Experience with tools such as Docker, Libvirt/KVM/Openstack

10+ years of experience as an Engineer, 5+ years in a DevOps environment

Excellent verbal and written communication skills in English
Want to develop innovative products? Let's talk!