Summary
PLVision is looking for a C/С++ Engineer with an excellent knowledge of Linux and experience in Embedded Development.
The team you're supposed to join is responsible for the development of the Switch Abstraction Interface (SAI) layer on top of the Software Development Kit. You will play an active part in extending the functionality of an innovative network hardware product.
Our customer is a leader in the networking industry, known as a revolutionary in the field of digital storage and transmission of information. This company is developing a line of products based on its switch silicon to provide a full stack of data center infrastructure for global technology leaders. PLVision has a long history of collaboration with the customer and our team is currently expanding due to the launch of a new direction within the project.
Dedicated recruiter: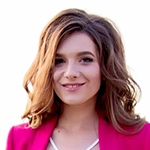 Yaryna Kunynets
Recruiter
Responsibilities
Design and development of new software packages/components of the rich embedded networking application

Full development cycle methodology (from design to final delivery to customer)
Requirements
Commercial experience in Software Engineering in Embedded Application Development

Experience with Linux applications development

Good knowledge of C/C++
Would be a plus
Experience with Layer 2/Layer 3 networking protocols implementation

Experience with Object-Oriented Design (OOD)/ design patterns

Experience with scripting language like Bash or Python
About PLVision
PLVision is a software product development services company, specializing in Computer Networking, Embedded Systems, and the Internet of Things Connectivity. Operating in the global market since 2007, we help networking industry leaders and ambitious startups launch innovative products.
Want to develop innovative products? Let's talk!