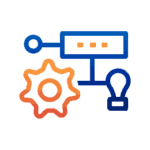 Summary
We are looking for an experienced Junior/Middle QA Engineer to test our Customer's ASICs and Software Development Kit in SONiC environment. Experience in developing and maintaining Jenkins pipelines is crucial.
The company is developing the product line using its own silicon in order to provide a complete stack for data centers of the global companies (such as FB, Alibaba, Amazon, MS, etc.). Moreover, the company is a leader in the development of new technologies in network traffic administration. That guarantees the coexistence of their products and software of any customer with no need to change hardware part during each software update.
Dedicated recruiter:
Taras Leskiv
Recruitment Lead
Responsibilities
Run NOS TCs regression both automatically and manually

Create, extend and maintain Jenkins pipelines

Update, extend and fix Python-based and Ansible-based TCs

Debug issues, isolate failures and drive best-practices across the organization

Automate system test cases and make automation infrastructure robust, scale

Participate in a peer-review process and seek/provide feedback in an ongoing fashion
Requirements
Deep understanding of L2/L3 Networking Protocols

Solid experience developing and maintaining Jenkins pipelines

Solid experience developing test automation in Python and Ansible

Good understanding of OO Concepts & Principles

Ability to thrive in a fast-paced startup environment

Excellent communication skills
Would be a plus
Engineering (Computer Science/Electrical Engineering) Bachelors with 4+ years of experience or Masters with 2+ years of experience

Ability to understand and articulate the usage of various network protocols and their use cases

Troubleshooting capabilities of large enterprise/data center networks

Design & Develop automated scripts (in python) for hybrid multi-vendor network gears

Understand traffic generating tools, ability to decode network packets
Want to develop innovative products? Let's talk!