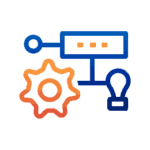 Summary
Cross platform software development for Infotainment System of one of the biggest automotive companies. Focus is on Embedded software for hardware platform with multi core CPU. There are Embedded Linux and micro RTOS in different cores.

Some of the key technologies used in the project: C/C++, STD, Boost, Embedded Linux, uRTOS, Google Tests, Bluetooth, CarPlay, MirrorLink, GoogleAuto, and a lot of others.
Dedicated recruiter:
Taras Leskiv
Recruitment Lead
Responsibilities
Code, debug, document, and maintain efficient, reusable, and reliable C++ code

Identify bottlenecks and bugs, and develop solutions for these problems

Maintain code quality, organization, and automatization

Perform unit and integration testing

Participate in peer code and design reviews

Participate in estimation and planning sessions

Escalate technical issues to the Architect, Team Lead and Project Manager

Participate in conference calls and face-to-face meetings with the Customer and Customer partners
Requirements
Strong knowledge of C/C++ with good understanding of OOP concepts

Experience with C/C++ programming on Linux/Unix environments

At least four years of experience in commercial software development

Evidence of having worked successfully without much supervision

Multithreading programming (understanding of processes, threads, synchronization, IPC mechanisms)

Experience in embedded software development

Experience with cross compilers, debuggers, etc.

Familiarity with Agile Software Development

Understanding and hands-on experience with VCS is must (SVN, GIT... GIT is preferable)

English level: Written technical English - Intermediate, Spoken English - Pre-intermediate
Would be a plus
Experience in working with micro RTOS (like uCOS, ThreadX, FreeRTOS)

Experience in Linux driver development

Python will be an advantage

Clear understanding of differences between versions of C++ standards

Implementation of automated testing platforms and unit tests
Want to develop innovative products? Let's talk!