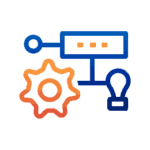 Summary
Currently we are looking for a Delivery Director, the most senior leadership position in the delivery function. This position implies managing and overseeing the Delivery Unit (100+ engineers) and ensuring successful achievement of key results in all projects in accordance with Customer expectations and Company goals.
You will be accountable for the delivery unit itself, appropriate team and client satisfaction level, as well as an account management function, and management of client expectations.
Dedicated recruiter:
Taras Leskiv
Recruitment Lead
Responsibilities
Development and implementation of the Delivery Unit strategy

Overseeing the Delivery Unit with 100+ engineers and ensuring the achievement of KPIs

Ensuring both quality and productivity of our internal project teams

Coaching and mentoring Development managers and Technical Leads

Close cooperation with the Company management team (CEO, CTO, CMO, COO, Biz Dev Director, and head of Human Capital) in order to find the best solutions, achieve Company goals, and develop a common strategy

Driving standardization and improvement of processes and management approaches, applying effective Lessons Learned practices, and contributing to knowledge sharing across the Company managers

Managing customer expectations and relationship by ongoing Customer support and using best account management practices

Conducting Operational and Business reviews in order to gather Customer's feedback, identifying weak and strong points, engagement risks, business needs, and new opportunities

Refining the engagement model, which will have the best match for collaboration with the Customers and will be effective for our teams' interaction maximizing business success of our Clients

Contributing to pre-sales efforts by providing timely and professional inputs in the area of operational and delivery capabilities that are relevant to the Customer
Requirements
5+ years of proven successful professional project management experience (planning, scheduling, project communication, issue resolution, change management, and risk management)

Experience of working with foreign Customers in the IT industry

Project ownership experience in all aspects (budget, scope, schedule, quality, etc.)

Proven experience in managing Fixed Price projects

Proven track record of managing teams/units of 40-50+ FTEs

Hands-on experience in SCRUM, Kanban, and other software development methodologies. Understanding of traditional methodologies (PMI, Prince2, RUP, and etc.)

Understanding of software development life cycle management

Experience in leading pre-sales activities in a service-oriented Company

Ability to establish solid working relationships with clients

Excellent communication, negotiation, and client relationship management skills

Great problem-solving and presentation skills

Fluent level of English
Would be a plus
Technical background

PM Certification (PMP, PRINCE2, ICP, SAFe, etc.)
Want to develop innovative products? Let's talk!