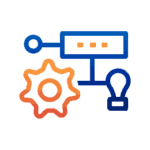 Summary
Are you a Senior C or C++ Engineer with excellent knowledge of Linux and experience in Networking? Join PLVision to build great software products for Connectivity and reach your full potential in our expert team!
The customer is a US-based networking equipment and software vendor, one of the global market leaders in open network solutions for data centers, telecommunications, and enterprise networks. PLVision has been collaborating with this company since 2013. Our team is currently expanding owing to the launch of a new direction.
A stable business with 100% Ukrainian capital, PLVision has offices in Ukraine and Poland. The company is investing its net income in 2022 in the Army through the Come Back Alive Foundation.
Dedicated recruiter:
Taras Leskiv
Recruitment Lead
Project definition
You will play an active part in extending the functionality of the innovative network hardware product – SmartNIC (Network Interface Card). It is an R&D type of project with an active research process and further work on the software product's development. You will be able to gain valuable experience and deepen your knowledge in popular open technologies.
Client profile
Our customer is a US-based company developing the product line using its own switch silicon to provide a complete stack for data centers of global companies (Facebook, Alibaba, Amazon, Microsoft, etc.). Moreover, the customer is the leader in development of new technologies for network traffic administration.
Responsibilities
Structured specification, design, and implementation of high-performance software

Ownership of code pieces and features, deep involvement in the system foundation in which the features are implemented

Participation in the full development cycle from the idea to the final release

Technical support of engineers, and the customer directly in debugging and resolving technical product issues (if needed)
Requirements
5+ years of experience in C/C++ development

2+ years of experience in Linux development

2+ years of experience with Networking protocols
Would be a plus
Experience with networking application development

Experience with DPDK (Data Plane Development Kit)

Experience with OVS (Open vSwitch)

Experience with virtualization technologies

Experience with QEMU (Quick Emulator)

Understanding of Server Architecture (Intel-based), e.g. interaction between a processor, memory, PCI (Peripheral Component Interconnect) Express bus, Operating System, and software applications
About PLVision
We are a software product development company specializing in computer networking, embedded systems, and the Internet of Things Connectivity. PLVision is headquartered in Krakow, Poland, with the Ukrainian headquarters in Lviv and other offices in Odesa, Kyiv, and Kharkiv (currently relocated). Founded in 2007, we help networking industry leaders and ambitious startups in the U.S., Israel, and EU countries to launch innovative products.

PLVision has taken an active stand in supporting independence and prosperity of Ukraine. We are investing the company's net income in 2022 to provide for our Army and our country's recovery, as well as implementing many volunteer initiatives.
Want to develop innovative products? Let's talk!