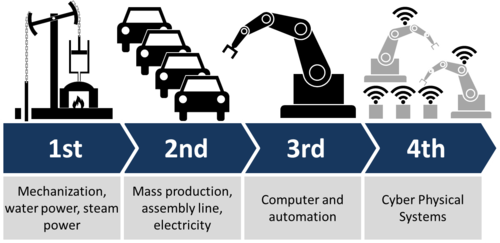 Lviv, Ukraine – February 9, 2017 – PLVision, a European software engineering company with focus on development of full-stack Industrial IoT and Computer Networking solutions, has become a member of Industry 4.0 movement in Ukraine. The initiative is aimed at leveraging Industrial IoT for the national economy, and, ultimately, globally.
As one of pioneering Ukraine-based enablers of Industrial IoT, the company has always sought to support initiatives and organizations that best reflect its technological vision. In December 2016, PLVision has become a member of Industry 4.0 initiative launched by the Association of Industrial Automation Companies of Ukraine.
With over 60 participants, Industry 4.0 Initiative serves as an integration platform for business associations, communities and ICT market players, industrial management systems and equipment manufacturers, scientific and educational organizations, designed to accelerate development of Ukrainian industrial businesses with high added value.
Association of Industrial Automation Companies of Ukraine is a non-profit organization of Ukrainian enterprises, representing a unique community of industrial IoT-related businesses. The defining principles of the Association include development of Industrial automation in Ukraine via collaboration, constant dynamic discussion, as well as continuous improvement. As a socially responsible company that actively contributes to community development, PLVision decided to join the dialogue in order to promote technological advancement for Ukraine's enterprises.
«Each Industrial IoT company is a part of a very specific and demanding ecosystem," Valeriy Kozlov, President and Board Member at PLVision, commented. "With our unique niche expertise, PLVision is strongly positioned to help businesses deliver value through industrial automation. By joining Industry 4.0, we declare our readiness to contribute to the advancement and successful implementation of Industrial IoT in Ukraine – and beyond».
About PLVision
PLVision is a European software engineering company providing custom software development and testing services in the areas of Industrial IoT (IIoT) and Computer Networking. For the past 10 years, PLVision has been successfully collaborating with leading global technology providers, including Fortune 500®, Fortune 100®, and Deloitte's Technology Fast 500™ companies, as well as innovative startups. The company's team includes over 140 skilled professionals in office locations across Ukraine (Lviv, Odesa) and Poland (Krakow).