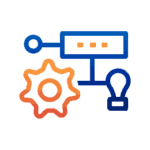 Summary
Customer – a leading networking software & hardware manufacturer – is looking for an excellent Software Engineer to join the Software Ethernet Verification in the R&D group.
The person will have to work closely with development and architecture teams responsible for Ethernet products and gain deep understanding of customer's products and technologies.
Dedicated recruiter:
Taras Leskiv
Recruitment Lead
Responsibilities
Design and development of new software packages, switching/routing features, and protocols

Perform research and analysis to make optimal solution decisions

Implement portable networking software in an embedded environment (Ethernet switch/router product line)

Full development cycle methodology (from design to final delivery to the customer in high scale data centers)

Develop code in industry-leading open source environments
Requirements
B.Sc. in Computer Science or Software/Computer/Communication Engineering

At least 2 years of experience in Python, or other modern programming languages/technologies

Hands-on experience with Ethernet Switches: Cisco/Arista/Juniper L2 & L3 Switches & Routers

Deep understanding of network communication protocols

Basic knowledge of Linux
Would be a plus
Strong understating of OOAD

Strong analytical, debugging and problem-solving skills

Experience with CI methodology & tools (Gerrit, Jenkins etc.)

Experience of working in an Agile/Scrum environment

CCNA/ССNP or similar
Want to develop innovative products? Let's talk!