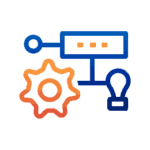 Summary
We are looking for a Python Verification Engineer with 2+ years of experience in Quality Assurance and Python programming to create innovative software products in the future-proof domain of computer networking. You will join PLVision's expert team responsible for designing and developing a test framework for revolutionary SAI/DASH open technology.
A stable business with 100% Ukrainian capital, PLVision has offices in Ukraine and Poland. The company is investing all its net income in 2022 in the Army through the Come Back Alive Foundation.
This is the project for a Silicon Valley-based networking vendor with an impressive portfolio of innovations and customers in more than 100 different countries. In this role, you will be cooperating with the client as a member of our team. PLVision works on the cutting edge of technology, so you won't need to deal with any outdated legacy code.
Dedicated recruiter:
Taras Leskiv
Recruitment Lead
Project Definition
DASH (Disaggregated API for SONiC Hosts), a new technology developed by the SONiC community, enables faster flow processing and more efficient data plane implementation for DPU or SmartNIC hardware.

The goal of PLVision's team is to create a software product that can be used for DASH API testing.
Client profile
Our customer is the leading test and measurements equipment and software vendor, based in the U.S. Their networking products enable end-to-end validation of equipment for data center, ISP/Telecom, and enterprise clients.
Responsibilities
Design and develop the test framework as well as conduct testing to enable high performance of Switch Abstraction Interface (SAI) for new platforms;

Create and maintain the test design documentation;

Create and maintain the software design documentation for the test infrastructure;

Ensure that SAI features (components) are functioning according to the requirements;

Work closely with the customers to ensure them in good quality processes and the best solution choice;

Work closely with the development team to give them a testing perspective.
Requirements
2+ years of experience as a Software QA Engineer;

2+ years of experience with Python programming;

Knowledge of OOP in Python;

In-depth Linux OS user experience;

Experience with virtualization/containerization technologies;

Understanding of QA methodology;

Knowledge of technical English at the Intermediate level and higher.
Would be a plus
Understanding of CI/CD processes;

Knowledge of Ansible;

Understanding of networking protocols (Layer 2 or Layer 3 networking protocols implementation, TCP sockets programming);

Experience with Linux networking;

Experience with SAI/SONiC implementation and integration;

Good communication, interpersonal, and teamwork skills.
About PLVision
We are a software product development company specializing in computer networking, embedded systems, and the Internet of Things Connectivity. PLVision is headquartered in Krakow, Poland, with the Ukrainian headquarters in Lviv and other offices in Odesa, Kyiv, and Kharkiv (currently relocated). Founded in 2007, we help networking industry leaders and ambitious startups in the U.S., Israel, and EU countries to launch innovative products.

PLVision has taken an active stand in supporting independence and prosperity of Ukraine. We are investing the company's net income in 2022 for the needs of our Army and our country's recovery, as well as implementing many volunteer initiatives.
Want to develop innovative products? Let's talk!