Summary
We are looking for a Senior Kubernetes Engineer with hands-on development experience with DPDK and Linux, profound knowledge of Kubernetes, and strong understanding of networking.
While extending our project, we invite professionals who love building the cutting-edge software products to join our expert community. In this leading role, you will directly collaborate with our client's engineering team to extend the innovative product functionality and develop new features with a high degree of ownership and freedom.
PLVision fosters innovation and a solution-oriented approach, meaning new ideas are always welcome. Our clients, mostly switching silicon, switch, router, or SmartNiC vendors, are prominent innovators in the networking industry. It means you will work with the latest technologies and won't need to puzzle out any outdated legacy code. Our team is constantly contributing to open source (Linux Kernel, SONiC, SAI, etc.).
We offer a productive environment with open and transparent communication, well-established processes and numerous growth opportunities in a thriving business with 100% Ukrainian capital.
Dedicated recruiter: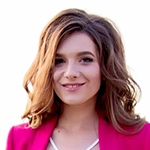 Yaryna Hlushko
Recruiter
Client Profile
Our customer is a European company, one of the world's leading manufacturers of SmartNICs (Network Interface Cards). They also provide testing, monitoring and network performance analysis services for data centers. The key technologies of this project are Open vSwitch (OVS) and DPDK (Data Plane Development Kit).
Responsibilities
Working out a new technical stream architecture (kernel drivers, DPDK tests, PMD driver improvements)

Supervising the project flow architecture

Supporting the team with DPDK-based activities

Controlling the technical team execution
Requirements
Experience with networking application development

Experience with Open vSwitch and DPDK

Experience with virtualization technologies:
- High-speed data communication from a virtual environment
- Direct hardware access from a virtual environment
- VHOST, VDPA, SRIOV

Experience with Qemu

Understanding of Server Architecture (Intel-based), e.g., the interaction between a processor, memory, PCI (Peripheral Component Interconnect) Express bus, OS, and software applications

Experience with Linux as the main development environment
Would be a plus
Deep understanding of Docker and Kubernetes

Kubernetes development experience (knowledge of the networking subsystem)

Software engineering experience in Go language
About PLVision
We are a software product development company specializing in computer networking, embedded systems, and Internet of Things connectivity. PLVision has offices in Krakow, Poland, and in Ukraine: Lviv, Odesa, Kyiv, and Kharkiv (currently relocated). Founded in 2007, the company helps networking industry leaders and ambitious startups in the U.S., Israel, and the EU countries to launch innovative products.

PLVision has taken an active stand on Ukraine, investing all net income in 2022 to support the Armed Forces and the country, as well as implementing many volunteer initiatives.