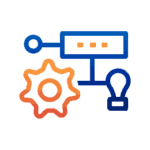 Summary
We are a software R&D firm, specializing in solutions for Computer Networking, Embedded Systems, and the Internet of Things Connectivity, that operates on the global market since 2007.
We are looking for a DevOps Engineer with proven skills in Product System development using multiple systems and processes, processes automation and system testing. The customer is an European software company dedicated to providing a software suite for server-side network acceleration.
Dedicated recruiter:
Taras Leskiv
Recruitment Lead
Responsibilities
Integration of accelerated DPDK+OVS with OpenStack

Automated scripts development for system installation, upgrade and so on

System work testing performance

High quality User manuals and Installation/Upgrade manuals preparation for the system

Possibly: benchmark testing performance (planned - yardstick benchmark tests)
Requirements
Experience in building system integration solution

Experience in processes automation (install, default configuration, upgrade, e.t.c.) for products with multiple processes

Building lab for solution demonstration

User Documentation development
Would be a plus
Experience with OpenStack

Experience with OVS (understanding of DPDK)

Understanding of FPGA, NICs upgrade

Understanding of network devices benchmark
Want to develop innovative products? Let's talk!