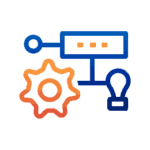 Summary
We are looking for a DevOps Engineer (4+ years of experience) to join PLVision expert community. Together, we will create software products in the high demand and dynamic domain of computer networking. Are you ready for the exciting challenges?
You will join a team responsible for building, diverging, and maintaining infrastructure. It's an opportunity to master new methodologies and realize your full potential by implementing your ideas into life. In this role, you will supervise PLVision's cross-organizational DevOps team and will be able to offer your vision of its further development. We are actively extending this technology direction within the company.
Dedicated recruiter:
Taras Leskiv
Recruitment Lead
Responsibilities
Building, managing and maintaining the infrastructure used by the R&D teams

Establishing and automating the existing processes

Researching and adopting new technologies

Developing tools and setting practices

Managing DevOps stream within the company

Preparing/facilitating the preparation of high-quality proposals based on client needs/company capabilities (pre-sale)

Communicating with technical experts, focusing on quality project estimations at the pre-sales stage
Requirements
At least 4 years of programming experience with an OOP language

Experience in developing software with CI\CD methodologies

High proficiency in Linux

Excellent control of GIT

Expert knowledge of SCM

Experience with containerization technologies

Experience with automation and orchestration tools

Good communication skills

English level - Upper intermediate
Would be a plus
Familiarity with developing C\C++ software

Excellent control of Python

Excellent control of at least one scripting language

Windows development experience

Familiarity with configuration management tools
About PLVision
PLVision is a software product development services company specializing in computer networking, embedded systems, and the Internet of Things connectivity. Operating in the global market since 2007, we help networking industry leaders and ambitious startups launch innovative products. PLVision has offices in Lviv, Kyiv, Odesa, Krakow (Poland) and is planning to open an office in Kharkiv.
Want to develop innovative products? Let's talk!