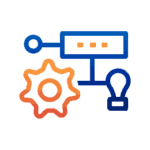 Summary
In general, the software package is a comprehensive management software solution that provides optimal performance for cluster computing, enterprise data centers, and cloud computing.
We are looking to hire a Firmware Engineer to join our customer's R&D team. The work environment is versatile, educational, dynamic and challenging as our employees are currently working on innovative, next-generation networking devices at the forefront of technology.
The daily work involves all aspects of firmware development: Design, Micro-Architecture, Software interfaces, and Verification. Work with the best and become one of the best!
Dedicated recruiter:
Taras Leskiv
Recruitment Lead
Responsibilities
Design and development of new peripheral protocols and system management features

Perform research and analysis to make optimal solution decisions

Extending existing functionality (thermal monitoring and protection, firmware burning and boot security, flash interface and structure, FPGA management and configuration, etc.)

Full development cycle methodology (from design to final delivery to the customer in high scale data centers)

Develop code in industry-leading open source environments
Requirements
B.Sc. in Computer Engineering/Electronic Engineering/Computer Science

2+ years of experience

Hands-on experience with C

Protocols being used (knowledge advantage) – SPI, I2C, SMBUS, MDIO, RMII, MCTP, NCSI, PLDM

Knowledge of real-time software is required

Knowledge of Python and Linux is mandatory
Want to develop innovative products? Let's talk!