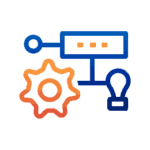 Summary
We are a dynamic high tech company with 11+ years of experience in the global market, specializing in the development of software solutions for Embedded Systems, Computer Networking and the Internet of Things.
Our rapidly growing Business Development team is looking for an experienced Sales Manager. The role is focused on active contribution to sales process development and strategic planning for each individual stakeholder and account.
Dedicated recruiter:
Taras Leskiv
Recruitment Lead
Responsibilities
Lead generation, mostly via LinkedIn and vertical/industrial events;

Cold calling/emailing and lead nurturing;

Outreach / Marketing coordination and campaigning;

Processing both outbound and inbound leads through the established sales process from Qualification to signing deal signage and transition to Delivery:
- Strategic planning on each individual stakeholder and account;
- Hosting meetings with leads, presenting the Company's technical portfolio and services;
- Gathering initial requirements from customers;
- Facilitating communication between PLVision and clients SMEs;
- Creating commercial proposals together with technical experts;
- Creating and agreeing on contractual terms & conditions with clients;
- Contract negotiations and signing

Face2face selling during vertical events;

CRM administration and hygiene;

Actively contribute to Sales offerings definition and development;

Market research in Computer Networking and IoT segments;
Requirements
Experience of 3+ years in IT industry, preferably in Technical Pre-Sales or Business Development;

Experience of 2+ years in Sales/Account Management;

Experience in lead generation and development via LinkedIn, email, phone call, face to face meetings;

Proven sales history with a strong understanding of sales process and techniques;

Knowledge of the Software Development Life Cycle;

Familiarity with key Project Management methodologies (Agile, Waterfall);

Experience with fixed scope and software R&D augmentation engagement models;

Strong understanding of Technology aspects of IoT and Computer Networking;

Strong strategic sales development skills and ability to effectively set and prioritize tasks;

Good command of written and spoken English (Upper Intermediate +)

Strong knowledge of business communication;

Presentation skills.
Want to make a difference? Let's talk!