Summary
Our strong marketing team is looking for an experienced Chief Marketing Officer (CMO) capable of diving deep into technologies and effectively collaborating with the company's technical leadership. The person in this role will be responsible for creating and executing B2B marketing campaigns to launch and monetize the company's new service offerings and products.
Dedicated recruiter: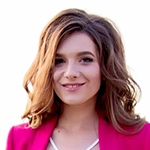 Yaryna Hlushko
Recruiter
Responsibilities
Oversee the creation of an effective sales kit and marketing materials that effectively communicate our value proposition to both existing and potential clients

Collaborate closely with our product development, sales, and customer service teams to align marketing strategies with business objectives and ensure a cohesive customer experience

Create, execute, measure highly effective lead-generation campaigns and programs that expand our customer base and drive revenue growth

Act as the driving force behind the launch of our new products, serving as a product marketing strategist. Develop compelling narratives, positioning, messaging to maximize product adoption and success Market Analysis: Proactively engage with technical experts, product development teams, business development specialists to identify market trends, quickly launch new offerings, validate market fit and make necessary adjustments to stay ahead in the industry

Define and execute marketing programs that generate demand for both our IT services and proprietary products, leveraging various channels and strategies to reach target audiences effectively Brand Management: Manage and enhance the company's brand presence, ensuring consistency across all marketing and communication channels

Utilize data analytics and marketing metrics to track performance, evaluate Return on Investment (ROI), make data-driven decisions to optimize marketing efforts
Requirements
Bachelor's degree in marketing, business, or a related field is required

Extensive experience in leadership roles within marketing, preferably as a Chief Marketing Officer (CMO) or Director of Marketing, with a track record of successfully driving growth for technology-focused companies

Experience working with B2B clients in North American, E.U. and/or Israeli markets

A strategic mindset with the ability to develop and execute comprehensive marketing strategies that align with business goals

Strong product marketing expertise, including experience in launching and promoting software products and services

Outstanding written and verbal communication skills, with the ability to create compelling marketing content

Ability to quickly understand technical concepts and trends, avid interest in technologies

A forward-thinking and creative approach in marketing, with a passion for staying updated on industry trends and emerging technologies

Outstanding organizational skills, ability to manage multiple projects simultaneously

Advanced level of English

Excellent negotiation skills, ability to communicate at various organizational levels
Would be a plus
MBA degree

Project management or business analysis background
We are a software product development company specializing in computer networking and embedded systems. PLVision has offices in Krakow, Poland, and in Ukraine: Lviv, Odesa, Kyiv, and Kharkiv (currently relocated). Founded in 2007, the company helps networking industry leaders and ambitious startups in the U.S., Israel, and the EU countries to launch innovative products.